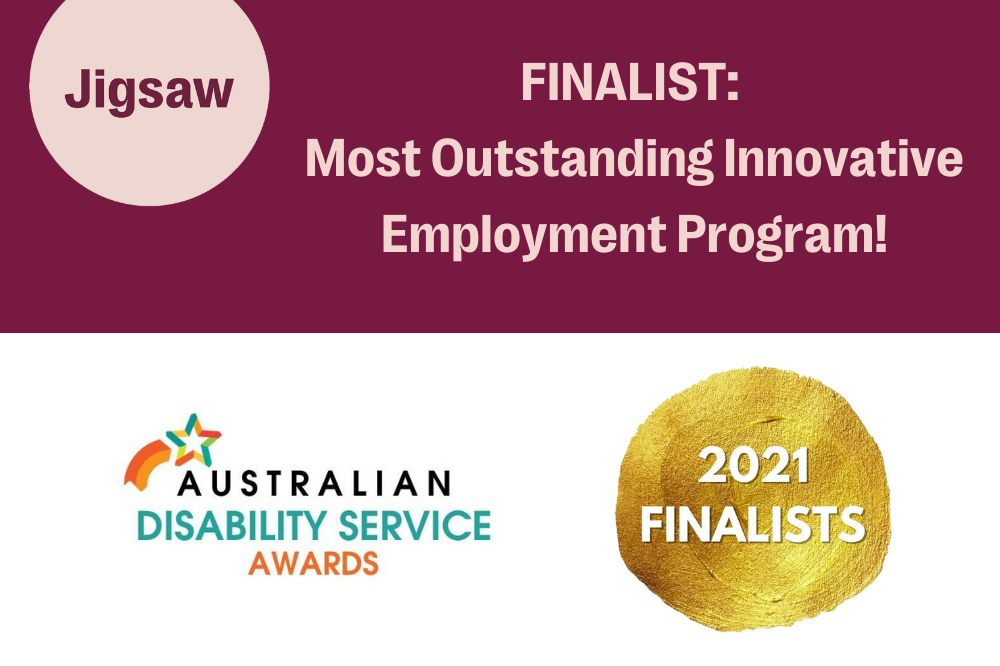 We are so excited to have just been announced as a finalist in the inaugural Australian Disability Service Awards in the 'Most Outstanding Innovative Employment Program' category. What an honour!
An enormous thank you to the Jigsaw team and our trainees for their passion, energy and hard work in bringing our vision – an Australia where people with disability are fully included in the workforce – to life. Your commitment and support of our revolutionary pathway to employment for people with disability is why we're here today.
We eagerly await the award ceremony on 5 April 2022! 
Shout out too to Lisa Duffy, from Fighting Chance (our parent company) who has been shortlisted for 'Most Outstanding Support Coordinator'!
About Jigsaw
Jigsaw is a social enterprise that provides an innovative pathway to open employment for people with disability. By embedding a comprehensive skill-based training program within our commercial document and data management business, Jigsaw enables people with disability to achieve their employment goals at their own pace. Jigsaw's holistic approach starts from the very basics of core work skills and supports trainees all the way through to transition to open employment with ongoing support and coaching once they have transitioned. 
Jigsaw is located in Sydney, Melbourne, Brisbane and Adelaide, with Canberra and Perth locations coming soon.