Sam is six months into his new job at the NSW Cabinet Office and Premier's Department (formerly NSW Department of Premier and Cabinet). When he's not at work, you can find him playing basketball – he's even been part of a bronze medal-winning team for Australia in the Special Olympics. Here, he reflects on his employment journey, and how he has progressed from a teenager on work experience with Jigsaw, all the way to his first mainstream role.
"I'm working in the City at Martin Place for the Cabinet Office and Premier's Department. Michael [Summers, Jigsaw Transitions Coordinator] brought [the job] to my attention. He said, 'there's a free role in the New South Wales Government,' so I just said 'let me take a look at it and see what it's about.' I loved what the job description said, because I felt like it fit me perfectly. When I first went there, we had a little tour around the office, and I really liked it. There were a couple of different Jigsaw paid trainees that went there. And I just so happened to fit what they needed.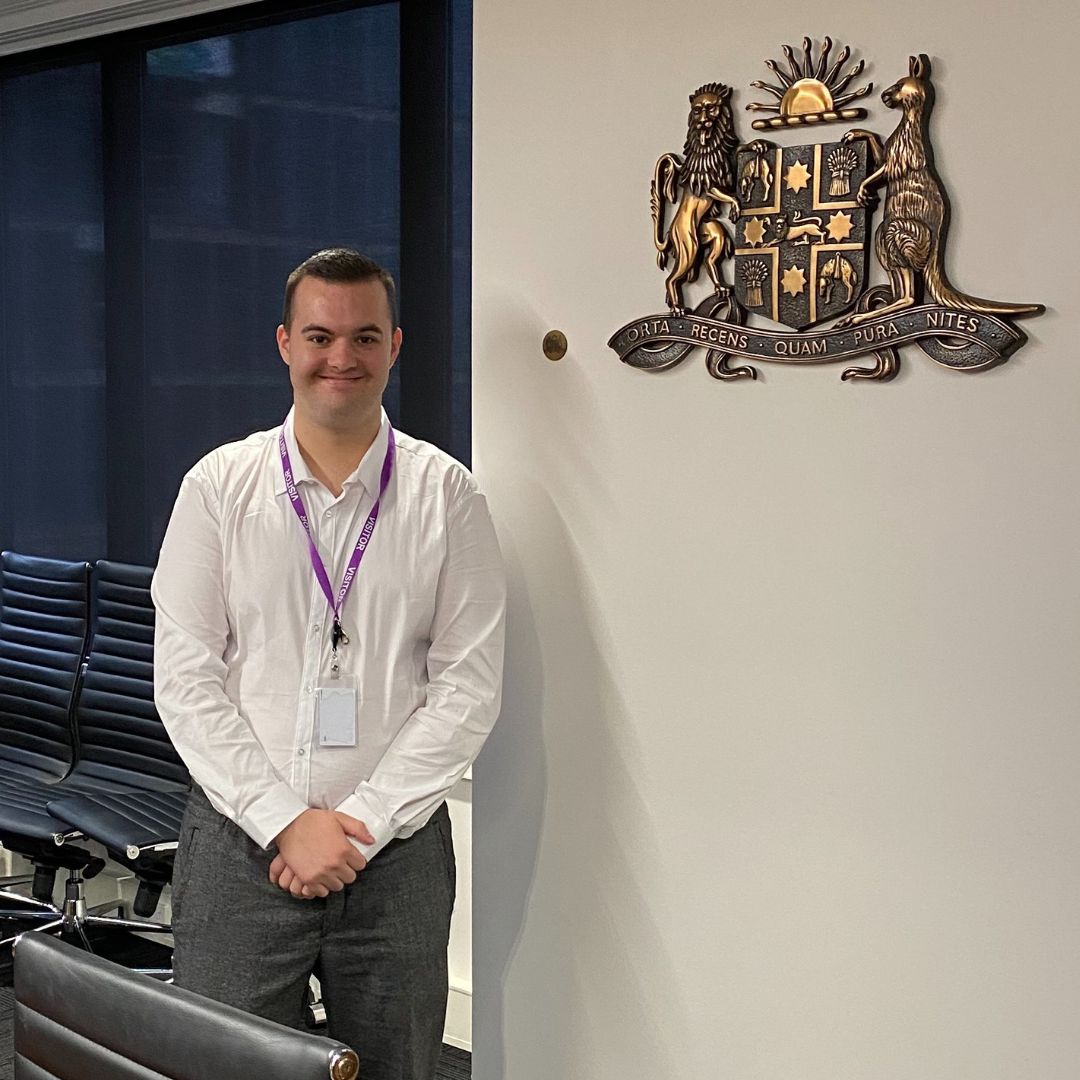 "I was interviewed by two people. We were given a scenario of what a regular day would look like. That was probably the most difficult part. We were given these portfolios, full of papers and we had to sort them out.  And I was just like, 'oh my God, where does this go? Where does that go?' But eventually I got the hang of it."
Sam "got the hang of it" and got the job! His role involves entering Cabinet Submission data into a spreadsheet by scanning barcodes on paper copies, but he can't tell us much more than that. "They kind of like to keep things private!" he laughs.
Michael supported Sam to settle into the role, with on-site support back in March 2023 when Sam started, and he still supports Sam with a weekly phone call check in. Sam's new colleagues have also done a lot to make him feel welcome and ensure a smooth transition for him.
"They're amazing. Yeah, they're super nice, super supportive. Super helpful. We've gotten along really well. As soon as I told [my colleagues] about the Special Olympics, they were so hyped about it. They organised a bake sale for donations. Because we had a website where people could donate to get us to Germany [where the Special Olympics were held]. That's one of my highlights."
In addition to feeling well supported by his colleagues, the skills Sam learnt at Jigsaw and his work experience there meant Sam "got comfortable right away" in his new job. In fact, leaving Jigsaw was his biggest challenge.
"I would say I haven't had any major challenges," Sam explains. "Being away from Jigsaw was hard because I'd been there for so long, and adjusting to my new lifestyle, but it hasn't been a major issue."
Sam is not exaggerating when he says he'd been at Jigsaw for "so long." Now 23, Sam first joined Jigsaw when he was 16.
"I started out at Jigsaw when I was in high school – I did work experience. Everyone there was so amazing and so helpful. And I thought in my head, 'Oh, I feel like I could be here for a while.'
When he thinks back on how far he has come in that time, Sam has a confession to make:
"I would always come in a tracksuit! All the time! Until my maturity started coming on, and I learned to be more professional."
On a more serious note, he is confident that Jigsaw has played an important part in his life.
"Honestly, I believe that I wouldn't be where I am without [the Jigsaw team]. They have been so helpful. They supported me throughout my entire journey and I can't thank them enough for that. I feel like I wouldn't be in this position if it wasn't for them. I'll give myself some credit as well. But I can't take all of it. They were just as invested as I was."
About Jigsaw
Jigsaw is a social enterprise that provides an innovative pathway to open employment for people with disability. By embedding a comprehensive skill-based training program within our commercial document and data management business, Jigsaw enables people with disability to achieve their employment goals at their own pace. Jigsaw's holistic approach starts from the very basics of core work skills and supports trainees all the way through to transition to open employment with ongoing support and coaching once they have transitioned. 
Jigsaw is located in Sydney, Melbourne, Brisbane, Adelaide, and Canberra, with Perth coming soon.