Meet Therese. When she's not playing sport or watching sport (she's a huge fan of the Adelaide Crows and the Adelaide 36ers), you can find her at Jigsaw, preparing for employment. She was one of the founding six trainees at Jigsaw Adelaide, starting when the hub first opened in May 2021.Therese has recently been promoted to a paid trainee position and is proud to be earning an award wage for the first time in her life.
"I'm good in an office. I know about computers, I know about printers, I know about scanning and photocopying, and I know how to fix things. That's why I like Jigsaw. I come in in the morning and work on turning old paper records into digital records for Epic Energy. I've done inventory, I've done file management, scanning and quality control."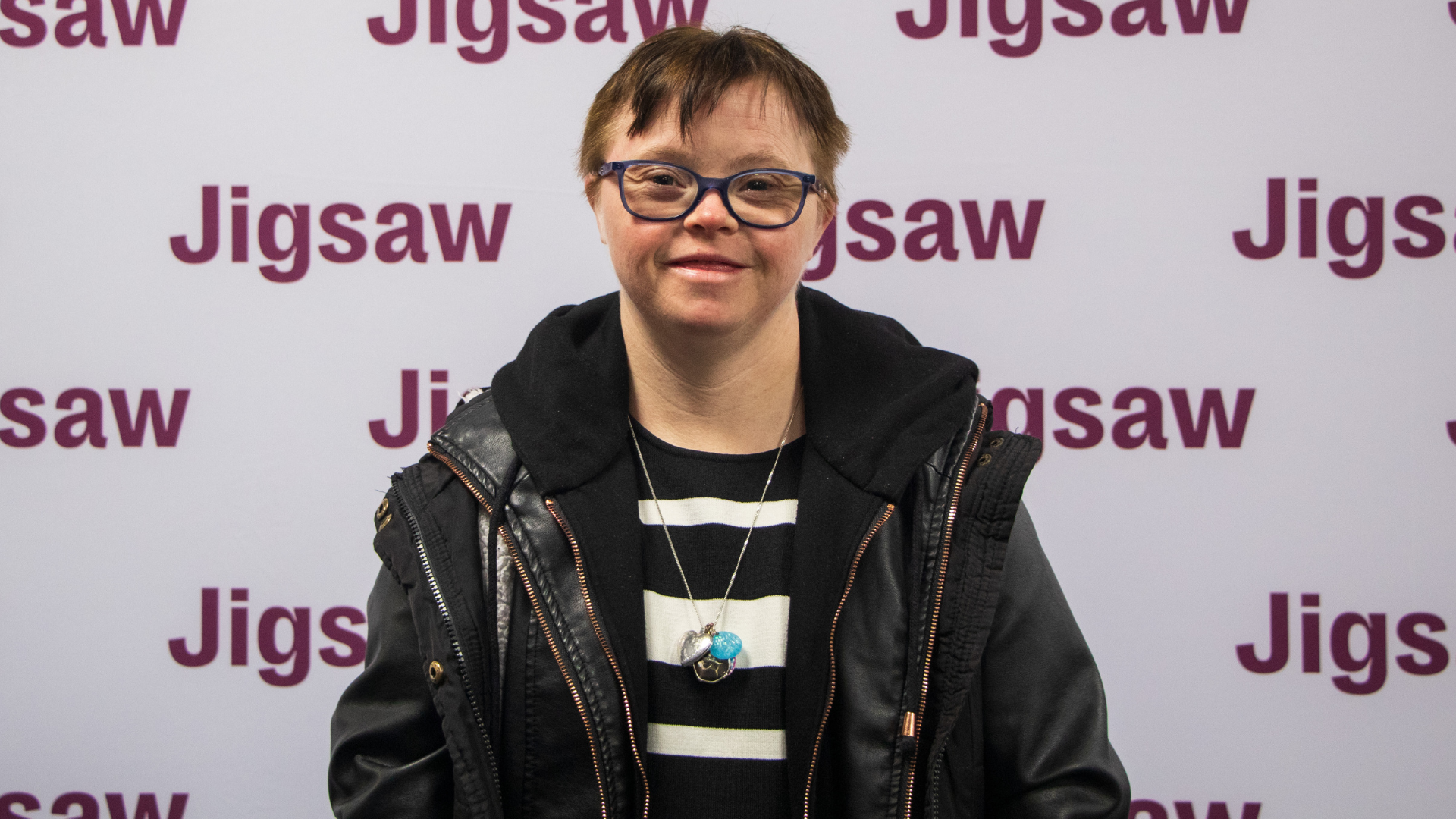 Therese has always wanted to work. She started by doing work experience at school, both at Hungry Jacks and at a hotel restaurant. Her dream job is as a receptionist at a wildlife centre, so that she can combine her strong administration skills with her love of nature and animals. Jigsaw is helping her develop both the soft skills and on the job experience to secure mainstream employment – including work experience on Jigsaw's brand new reception team.
"I've been working as a receptionist. I love doing that. Yesterday, I had a couple of customers come in, and I dealt very well with that.They told me the person they wanted to talk to, so I got that person to come and talk to them. And I told them 'could you sign in, and sign out?'"
Therese had previously worked at an Australian Disability Enterprise (ADE), and whilst she liked the work itself, she wasn't treated well.
"Before Jigsaw I worked at [an ADE] doing packaging. I had a lot of issues at [my ADE], and I didn't want that. People were talking behind my back. One of the leaders wasn't nice to me and said nasty words to me. I had enough and left them, I didn't like the hassle."
Therese feels there is a big difference between how she was treated at her ADE, and her relationships with staff and trainees at Jigsaw.
"All the trainers are really nice to me. The people feel like a family."
Her family has also appreciated the change. "My mum is so happy I'm doing Jigsaw."
Therese was very excited to move into Jigsaw Adelaide's permanent CBD location in 2022, and the new, larger site has lived up to her high expectations.
"I was counting how many sleeps it was before we moved into the City. I love the big office. We've got more space, we get more people in. I love it here."
It has also given her another opportunity to develop independent living skills. "I've learnt to catch the bus to Jigsaw. The first time I did it I used my map and I did really well with that – coming into Jigsaw and finding out what bus I had to catch."
Whilst Therese is very happy at Jigsaw, she has her eye on the long-term goal: transition to mainstream employment. 
"I'd love to go on and work somewhere else. I love the idea. I've done my resume. I've been working on it."
Aside from employment, Therese is targeting sporting and personal goals. Aligning with her interest in photography, she loves to travel. One of Therese's favourite trips was to Kangaroo Island, where she enjoyed walking on the beach and capturing sunsets and the beautiful natural surroundings. She is a keen sportswoman and even carried the Olympic torch in the run-up to the Sydney 2000 Olympic Games. She has represented South Australia and Australia in both rhythmic gymnastics and ten-pin bowling, travelling to compete in Europe and the USA. Therese also competed in the 2022 Special Olympics Australia National Games in Tasmania.
Therese turned 40 earlier this year, so 2023 is a milestone year, both for birthdays and for kicking goals!
About Jigsaw
Jigsaw is a social enterprise that provides an innovative pathway to open employment for people with disability. By embedding a comprehensive skill-based training program within our commercial document and data management business, Jigsaw enables people with disability to achieve their employment goals at their own pace. Jigsaw's holistic approach starts from the very basics of core work skills and supports trainees all the way through to transition to open employment with ongoing support and coaching once they have transitioned. 
Jigsaw is located in Sydney, Melbourne, Brisbane, Adelaide, and Canberra, with Perth coming soon.