Bradly is 29, and, since his school days, having a job is what he has most wanted to work towards. With unwavering support and advocacy from his Aunty Liz, he spent years exploring different avenues to achieve his goal, all of which ultimately ended in disappointment. Since starting at Jigsaw in February 2022, he has grown his confidence and friendships with other trainees and has been, in the words of Aunty Liz, "blossoming."
"I come to Jigsaw on Monday, Tuesday and Wednesday. I do file management and I've done scanning. Today I did 15 folders! I find the people very nice and I enjoy all of it," Bradly says. "It was Aunty Liz that found out about Jigsaw."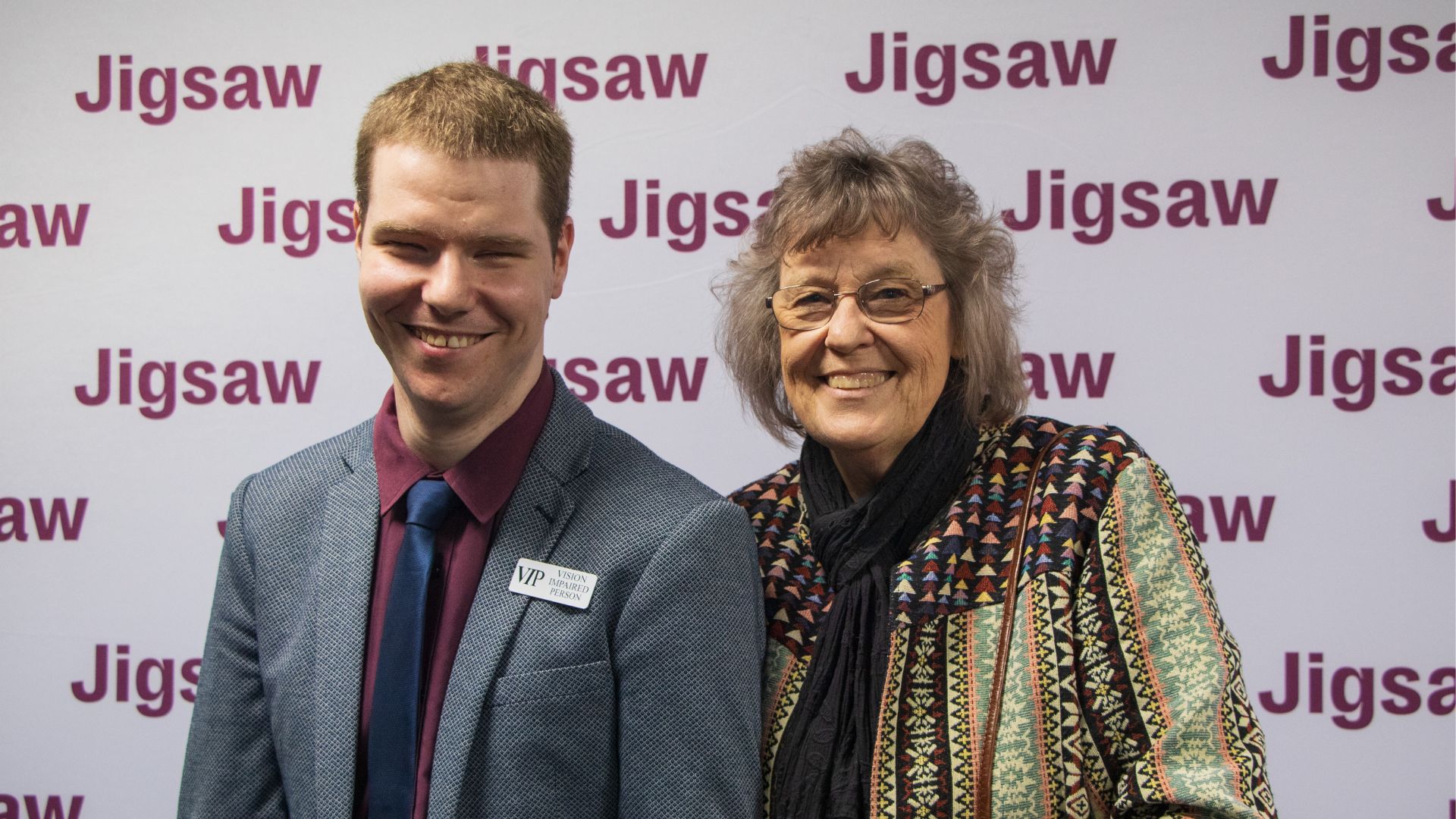 Aunty Liz is both Bradly's great aunt and legal guardian. She has dedicated herself to seeking out the best opportunities for him, including three years at Heritage College private school, which sparked his employment ambitions.
"Bradly was fifteen years of age when a friend of mine who's a disability teacher approached me. She said, 'if I can get something organised, would you help me teach Bradly at Heritage College?' He did three years there and learned a great deal, and during that time we were trying very much to prepare him for going into the workforce with the things we taught him."
Sadly, Bradly's journey has not been a simple one since leaving Heritage College aged eighteen. It has taken eleven years to find the opportunity to prepare for employment with Jigsaw.
"After I finished at Heritage I went to another school. I went to SASVI, [South Australian School for the Vision Impaired] and I spent two years there, and after that I stayed at home. I did day options. I would go out shopping, and then I would go out to lunch, and I would listen to music and do cooking," Bradly tells us.
By the end, he was not enjoying his day program.
"At first Bradly did enjoy doing something with his time, but he outgrew it. He needed something more scintillating, so he became unhappy about having to go there. He went backwards from what he had learnt."
Throughout Bradly's years at day programs, Liz never gave up on the belief that there was a way for Bradly to access employment.
"A few times we actually thought that we had a job for Bradly in sheltered workshops, but there was always some reason why they said it wasn't possible. Mainly, Bradly's blindness was something that I think was an issue. It was all very disappointing."
Liz came across Jigsaw through Lutheran Disability Services (LDS), who partnered with Jigsaw to launch the Adelaide location. Bradly has recently transitioned from a previous provider to living in an LDS Supported Independent Living (SIL) house. The combination of really good care at home and the supportive atmosphere at Jigsaw means that Bradly is "in the best place that he has ever been."
"I can see that Bradly now has more purpose in his life," Liz reflects. "I'm hoping with the diligent work and help of the people at Jigsaw that he will be able to do what he would really love to do, which is to have a job."
Both Bradly and Liz feel hopeful about Bradly's future in employment. "Now we've found Jigsaw, we're on the way. If anyone can do it, Jigsaw can."
"I can see that Bradly has more purpose in his life"
About Jigsaw
Jigsaw is a social enterprise that provides an innovative pathway to open employment for people with disability. By embedding a comprehensive skill-based training program within our commercial document and data management business, Jigsaw enables people with disability to achieve their employment goals at their own pace. Jigsaw's holistic approach starts from the very basics of core work skills and supports trainees all the way through to transition to open employment with ongoing support and coaching once they have transitioned. 
Jigsaw is located in Sydney, Melbourne, Brisbane, Adelaide, and Canberra, with Perth coming soon.