Jayne Brownlee is Jigsaw Adelaide's latest paid trainee. Aged 21, she is two months into her first award-wage job working on a data entry contract with Jigsaw client Bedford. Jayne tells us about the obstacles she has overcome, and the strength she has gained along the way.
Jayne joined Jigsaw in May 2022, after briefly trying out an Australian Disability Enterprise (ADE), when she left school. It was not what she wanted from her life. "It wasn't for me. My mum thought I was able to earn a proper wage, not just a tiny amount per hour. She's very keen on me being financially self-sufficient and having a stable income. And I'm certainly keen on that myself. Saving, and having that responsibility. I knew I could achieve a lot more."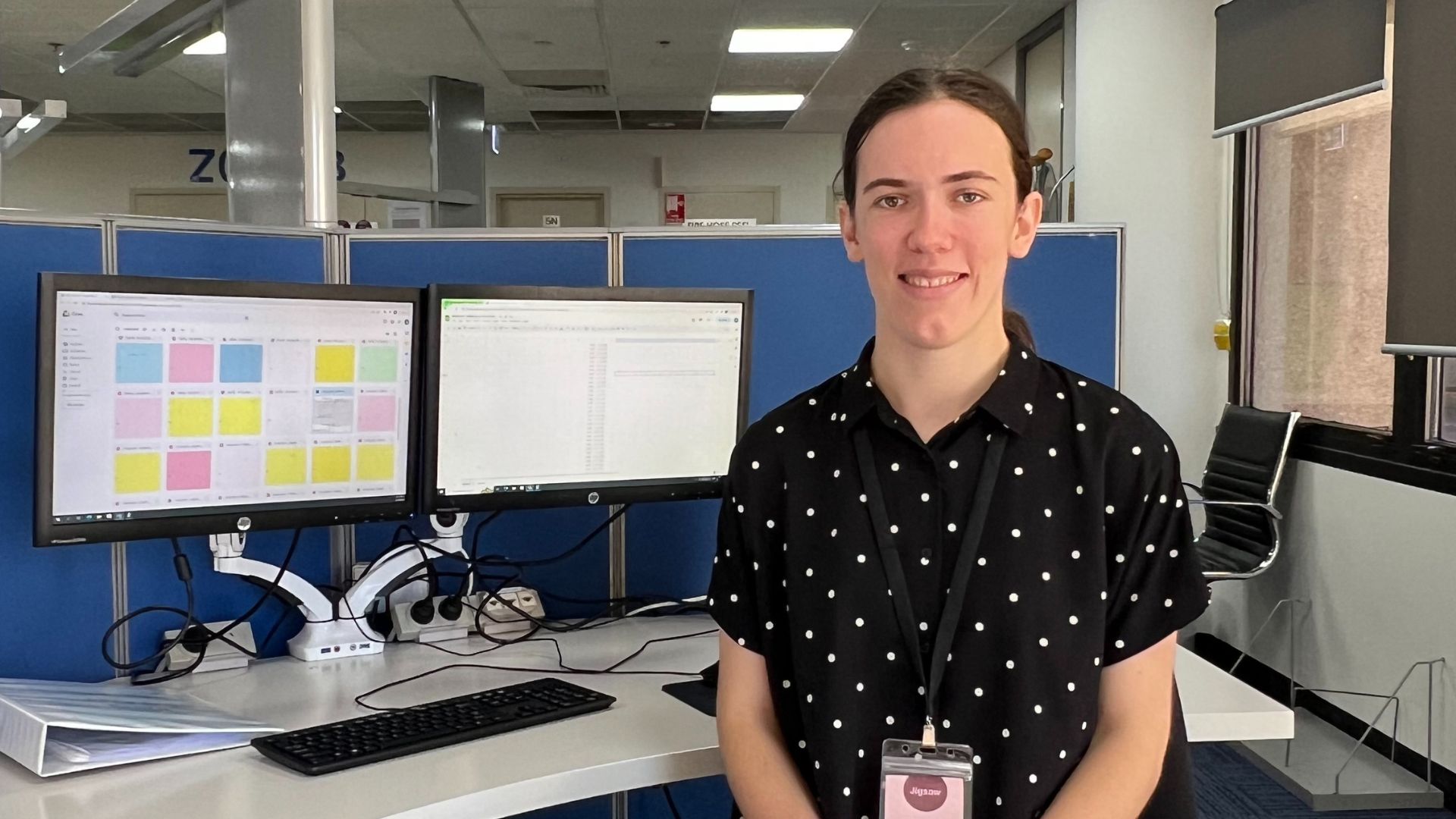 She discovered Jigsaw through a recommendation from an advocate, and hasn't looked back.
Jayne excelled in Jigsaw Academy – the first stage of Jigsaw's pathway to mainstream employment, where trainees master twenty core, transferable work skills such as teamwork, communication, focus and professional presentation. Many of the skills came naturally to her. "Both my parents were office workers," she explains, "so I've always understood professional presentation and dressing for the office. I like being very responsible and people tell me I have good attention to detail."
Jigsaw's individualised approach meant that Jigsaw trainers were able to personalise learning opportunities to extend Jayne's professional development, once they saw how quickly she was progressing through the Academy training modules. "We went through my resume, and we looked at Linkedin. We did some mock interviews and adapted my training so that it suited what I needed to learn and work on."
After just ten months as a trainee at Jigsaw Adelaide, Jayne was promoted into a paid traineeship – her first award-wage job. She has just received her third pay cheque and feels she is going well so far.
"I'm happy to be here doing this job." she says. "It's not simple data entry, which I think is good, because it definitely requires some problem solving. So you generally get into a rhythm with it, and then you get one that really requires concentration. It's a good challenge, and I've certainly learned quite a few things from the work."
Long-term, Jayne wants to work in a mainstream office job, ideally in document control and reference management. This is an area where she can build up some good experience at Jigsaw and in future, she sees herself increasing her days there. However, she is content with working two days per week at the moment, as she is juggling her job with training for high-level basketball.
"Outside of work, I am very focused on sports. I play basketball in the Ivor Burge program. It's through specific guidelines – you need to have an intellectual disability. I'm on the roster for the Australian women's team – the Pearls. Last year, I was selected for the Oceania Games. There's a lot of very good players on the roster, and I'm one of the few people ever to be selected from South Australia. I've also been lucky enough to get involved in some mainstream basketball."
Jayne credits sport with building her resilience and helping her move past challenging experiences during school. Home-schooled during her primary years, she wanted to try going to high school as she thought she would enjoy the structure. However, she had to move school twice due to a combination of bullying and lack of educational support. Her mum and some teachers at her final school encouraged her to try basketball.
"Basketball certainly helped me cope. I kind of realised you just need to get on with it. When I went to the first Australia camp last year, it was quite intense from the first session on the court but I loved every second of it. The coach was tough but fair. It was expected that we just got on with what we were told to do. I've learned a lot about having to deal with pressure that will help me now, in work, in basketball, and when I'll have those higher positions."
Jayne's incredible resilience is grounded in a no-regrets attitude towards her life experiences so far. Now, far enough removed from her school days, she has analysed the low points to see what she can take forward to help her into the future.
"I learnt a lot of mental toughness. I call it 'shutting up and getting on with it' – when someone's unhappy with you, or doesn't say things in the nicest way. I also learned a lot about what [support] to ask for now, and what I need to tell people, so it was good and bad. I don't regret going to school. I'm glad I did. It was just very unpleasant along the way."
And what are Jayne's plans for the future? For now, she is happy balancing work at Jigsaw with competitive sport and continuing to develop her skills: "I still am learning lots and I am definitely not always perfect by any means," she reflects.
"As well as a mainstream job, I would like to progress further in mainstream basketball and hopefully play basketball in the Paralympics, if the classification for intellectual disability gets added. One day I'd like to live independently, and be in my own place. I'd like to own my own house, but that takes a lot."
Jayne, if you pursue this goal with the same determination and pragmatism you've brought to everything so far, we back your chances!
About Jigsaw
Jigsaw is a social enterprise that provides an innovative pathway to open employment for people with disability. By embedding a comprehensive skill-based training program within our commercial document and data management business, Jigsaw enables people with disability to achieve their employment goals at their own pace. Jigsaw's holistic approach starts from the very basics of core work skills and supports trainees all the way through to transition to open employment with ongoing support and coaching once they have transitioned.
Jigsaw is located in Sydney, Melbourne, Brisbane, Adelaide, and Canberra, with Perth coming soon.