Britt is rightly proud – she has passed her one-year anniversary working at the NSW Government Department of Premier and Cabinet. Her story is one of ambition, energy and the drive to do whatever it takes to make the most of life's opportunities.
"I only realised I had autism when I was 14,15. Then I got very scared that there was something wrong with me, but later in life, I started to accept myself. I was like, oh no, this is me, this is Brittany.
Fiercely independent, Britt left home for the first time in 2019, moving more than 300km from the coastal town of Old Bar in NSW to Sydney to join Jigsaw.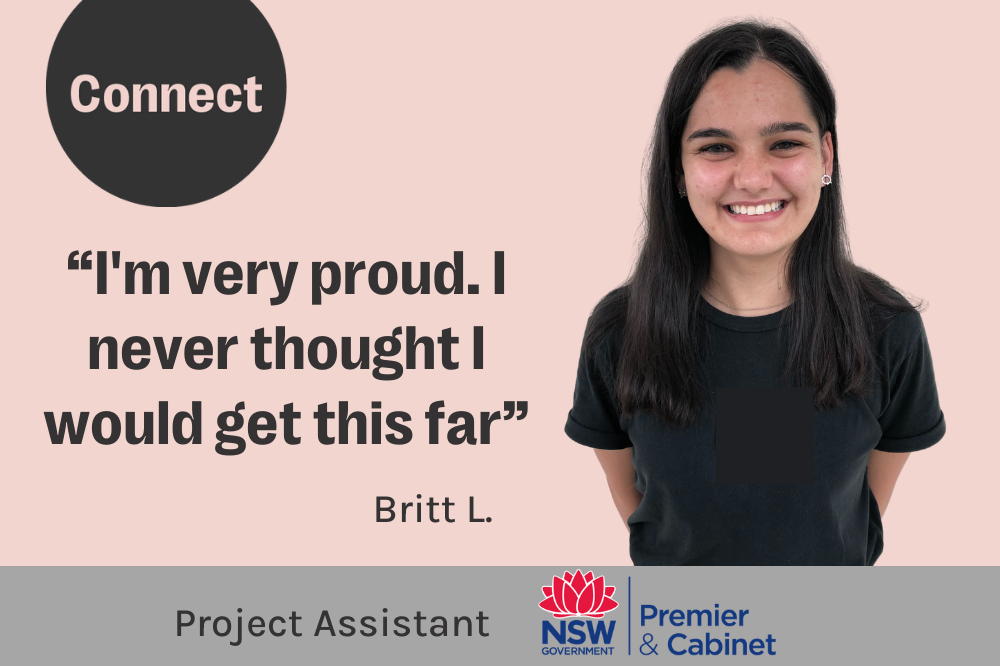 "I'd never lived without my mum, and that support, so moving to my own place more than four hours away was quite daunting."
Finding employment was such a challenge that when Britt saw a Facebook video of Jigsaw trainees doing work for Westpac, she jumped at the chance to join despite the distance.
"It was difficult to find work. There's a lot of stigma around the words "autism" and "Asperger's". Interviewers wouldn't know what to do with me, mostly, and when I mentioned Asperger's they would usually end the interview there."
She started at Jigsaw in January 2020, having settled in with flatmates on Sydney's Northern Beaches. By November of the same year, her core work skills were so well developed that she moved into a paid traineeship with Jigsaw. Trainees progress through Jigsaw at their own pace and usually spend 12 – 18 months at Jigsaw Academy, but Britt was not letting anything hold her back.
Whilst at Jigsaw, she worked on client contracts, including a remote admin contract entering details of insurance claims for Allianz, and a digitisation project at Westpac, where she was welcomed into the Westpac team.
"One of my favourite moments was when Westpac took us out for lunch to celebrate us finishing the contract on schedule. It was nice of them to acknowledge our accomplishment and reap the rewards."
Britt started her job as a Project Assistant in the People, Culture and Talent team at the NSW Department of Premier and Cabinet in December 2021.
Michael Summers, Transitions Coordinator, and Paul Brown, Jigsaw CEO, recommended Britt for the Project Assistant role. To apply, Britt did an interview and an assessment of her writing and comprehension skills – she had to compose an email inviting attendees to a meeting.
"They give you a template with the information, and you have to write the email. I had 15 minutes to do it. I'd learned a bit from working on Allianz about professional communication, like the 'kind regards' sign off, and I did some practice emails with Michael."
For the interview itself, Britt used some techniques she'd been practising.
"When I met with the interviewer, Jane, who's my boss now, I got really tongue-tied. I really put in effort, telling myself, 'Brittany, slow down, breathe first, talk a bit slower than you usually do."
Jane asked Britt for a follow-up chat a couple of weeks later. Initially, Britt didn't know what this meant, "because in the only role I had before – I was a dishwasher at a cafe in Taree – there was nothing like that. 
"When Jane said, 'Britt, you got the job,' I started crying. I didn't realise how much I wanted the job until I got it."
Since then, Britt has thrived in her role. "They are all friendly and nice. They all make sure I'm safe and supported and included in everything we do", she says.
"I thought I'd be stuck being a dishwasher…for the rest of my life. Being in this role, I'm being more outspoken and a bit more self-confident in my skills", Britt shares.
Britt's thriving in the stable, supportive environment in her role, and working towards goals for her personal life and career.
"My dream job is to work at the Dr Martens factory in London one day. I'd always liked the boots but I never had money to buy them. Eventually I bought a pair of my own and I love them. If a job there came up, nothing would stop me going for it. I'm also saving money to travel to Japan with my grandma, just like she travelled with her grandma when she was young. We've been planning it for years."
We are so proud of Britt and know that with her determination and desire to keep learning, she will continue to tick those goals off the list.
About Jigsaw
Jigsaw is a social enterprise that provides an innovative pathway to open employment for people with disability. By embedding a comprehensive skill-based training program within our commercial document and data management business, Jigsaw enables people with disability to achieve their employment goals at their own pace. Jigsaw's holistic approach starts from the very basics of core work skills and supports trainees all the way through to transition to open employment with ongoing support and coaching once they have transitioned. 
Jigsaw is located in Sydney, Melbourne, Brisbane and Adelaide, with Canberra and Perth locations coming soon.