Film and TV lover Sarah wanted to work. But a bad job experience took her confidence. "I've got a mild learning disability and hearing impairment," says Sarah. "It takes me a couple of goes to understand things. This can make me feel very nervous."
At that time, Sarah had finished her certificate 3 in childcare and begun working in a daycare centre. But her boss didn't understand her disability. When Sarah made a mistake or needed help, her boss would say things that Sarah found hurtful. "I was finding it difficult to believe in myself," says Sarah. "I needed more support."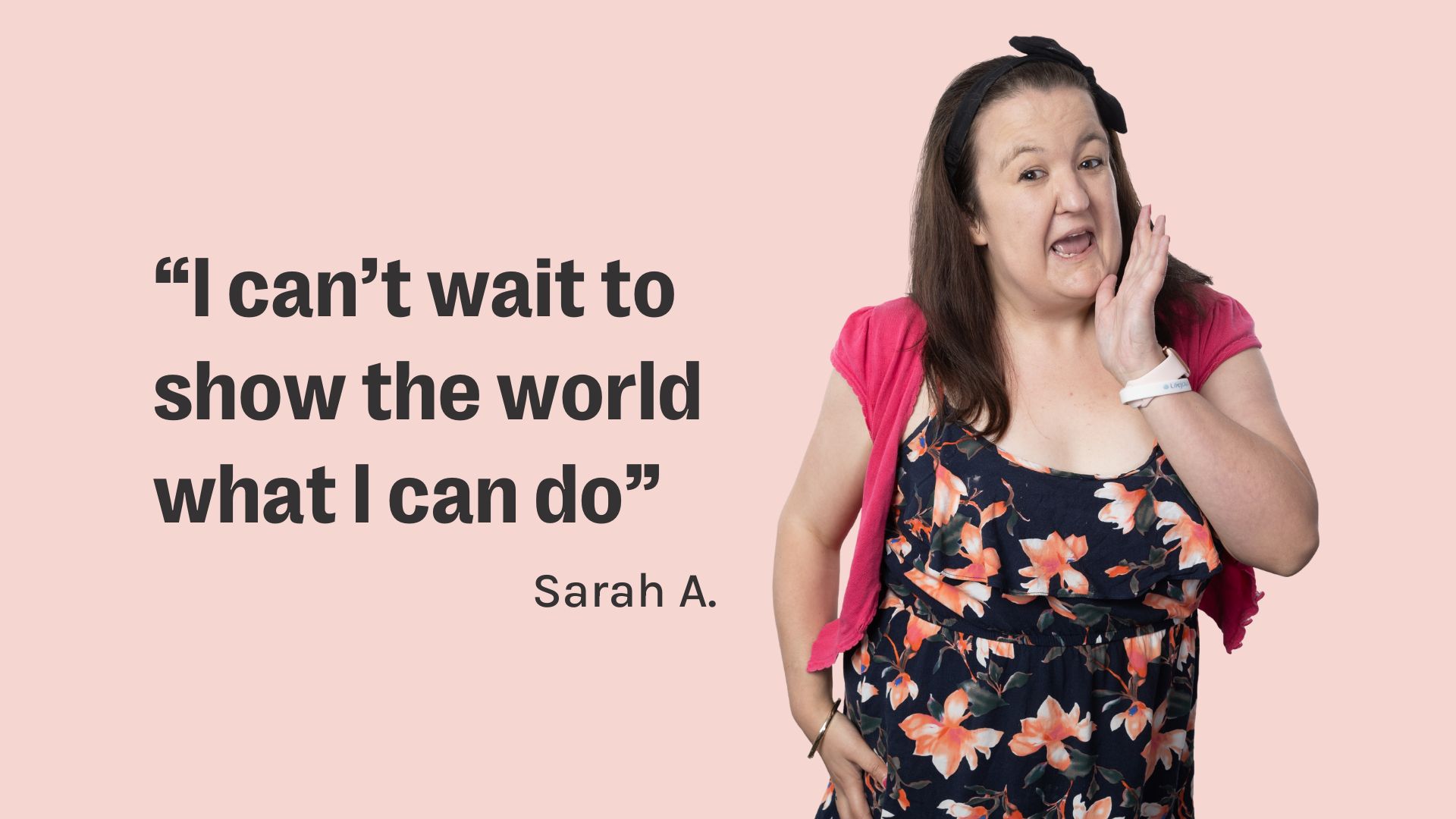 Sarah was also loving doing drama classes and was part of a theatre group for people with disability. More than anything, she enjoyed watching movies, writing stories, and performing. "One day a friend from my drama group told me about Jigsaw," remembers Sarah. "She said it was a place I could go to get the job training and support I needed."
Sarah went home and visited the Jigsaw website. The training program sounded just right for her. Sarah emailed her details to the Jigsaw team and less than two weeks later she arrived at Jigsaw headquarters in Sydney for work experience! 
At Jigsaw, Sarah felt the relief of being truly supported. She was excited to learn on-the-job skills such as communication whilst doing work-experience in our digitisation and information management business, Jigsaw Digital. Training was flexible and tailored to Sarah's learning needs. 
Over the next 18 months, Sarah completed the Jigsaw training program. She knew she could take the time she needed to learn the transferable job skills, and that no question was stupid. Her Jigsaw trainers  could see her strengths and understand her challenges. Sarah's confidence soared!
Then, after completing her training, Sarah was offered an award wage paid job at Jigsaw Digital. It was thrilling to get paid to use her new job skills. She loved working with her friends. It was great to have her own money to pay for a movie or go to a café.
"The people that you work with make all the difference," says Sarah. "The Jigsaw team understood what I'd been going through."
While working at Jigsaw, Sarah had also written and produced two short films with her drama group. The Jigsaw team had got to know Sarah well and always encouraged her to develop her creative talents.
One day Sarah came into work and her manager showed her a job he'd seen advertised for a TV industry traineeship at the ABC especially for someone with disability.  "My manager said: 'Would you like us to help you apply?'. I immediately said 'Yes!'."

The Jigsaw team helped Sarah write and submit her CV and job application and practice her job interview skills. She was calm and ready for her Zoom interview with the ABC. A few weeks later, the ABC called Sarah for a second meeting.

"My heart was pounding like nothing else," says Sarah. "They said to me: 'Your interview was really good, and we want to offer you the job'. I burst into tears with excitement, then I called my manager from Jigsaw to let them know. I ran downstairs to tell my mum and then I texted all my friends."
Sarah has just attended her first Zoom meeting with her new TV team. She's so excited about all she will learn about the industry in the months ahead. But she also plans to keep working at Jigsaw once a week, as she enjoys her job and is now great at it. It's the perfect mix.  "It's so good that I've still got that Jigsaw support because they are helping me through the whole journey," she says.

As someone who has always tried to "dream big", now Sarah is on a path to achieve her goals. "I want to learn everything there is to learn in the TV industry," she says.

To those people with disability who are struggling to find the right work and feel tempted to give up, Sarah says: "keep dreaming" and invites them to get in touch with Jigsaw.
"If you have a disability, I want you to know you can do anything," she says. "After a tough start to my working journey, at Jigsaw I found a place where I am always supported and never feel alone.

"Today, I can't wait to show the world what I can do."
About Jigsaw
Jigsaw is a social enterprise that provides an innovative pathway to open employment for people with disability. By embedding a comprehensive skill-based training program within our commercial document and data management business, Jigsaw enables people with disability to achieve their employment goals at their own pace. Jigsaw's holistic approach starts from the very basics of core work skills and supports trainees all the way through to transition to open employment with ongoing support and coaching once they have transitioned. 
Jigsaw is located in Sydney, Melbourne, Brisbane and Adelaide, with Canberra and Perth locations coming soon.