Meet Liam. Liam's a trainee at Jigsaw Sydney targeting mainstream employment to great success – he's recently started a job making cabinets with Fox Wardrobes.
Liam has always worked hard. After moving to Sydney from Canada with his family in 2011, he did well at high school, taking part in music and theatre alongside academic classes. He started gaining employment experience whilst still at school – working at Harris Farm Markets every Tuesday. When Liam left school in 2020, he started at Jigsaw to help him secure the "perfect job I wanted to do for my career."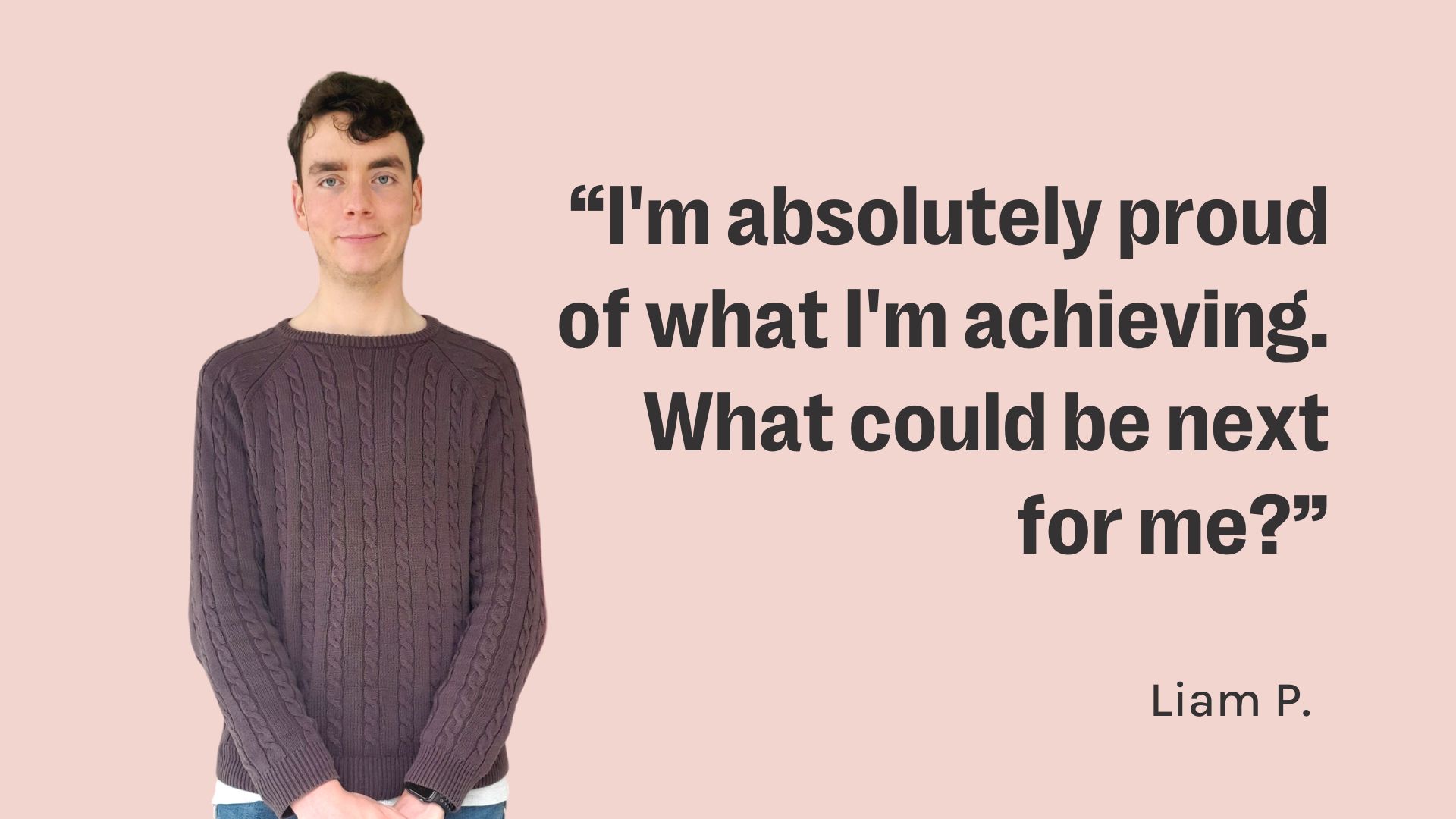 The story of how Liam came to Fox Wardrobes is a serendipitous one. "My dad found Fox Wardrobes after my parents bought a new closet for my bedroom, and I thought, why not have an idea of working there?"
Liam's dad called them up, and he did an interview where he presented his creative portfolio, supported by his dad, as well as Tim Hayes and Michael Summers from Jigsaw's Transitions team.
"They gave me a tour around the building and what it looks like to work there. And then they gave me the safety briefing, so I could write down different ways of being safe – so you won't get injured or cut or anything."
Liam has excelled at Fox Wardrobes, starting one day a week in February and now progressing to four days. His managers, Jai and Baptiste, are very supportive, as are his colleagues. He is learning technical skills on-the-job to complement the soft skills he has gained through Jigsaw.
"My manager Jai taught me how to build a drawer, giving me the steps to learn. Then, eventually I started to do it all by myself. I built drawers first for a bit, but then I moved on to the next phase, which is building cabinet towers. After another test I can deliver the cabinets to people's houses, and one day, install them. Hopefully my colleagues will help me out on what the next stage will be once I've got the skills building all these towers and drawers. Like, what could be next for me?
As well as developing soft skills, Liam really values the work experience element of Jigsaw.
"I still come to Jigsaw on Fridays and do quality control, or large-plan scans [for Jigsaw's digitisation business clients]. The guidelines and training on how to do scanning, file management and quality control from my Business Leads were really good. It was good experience for my job at Fox Wardrobes."
Alongside Jigsaw and his job, Liam is working on other skills to help his future career, including driving. He is very clear about what he wants to achieve in his future.
"What's important to me is achieving my goal, which is working five days a week at Fox Wardrobes. Hopefully soon in the future, Jigsaw will celebrate with a party for me getting a job. I will miss Jigsaw, but I know that my family, Jigsaw and Fox Wardrobes will always help support my future, so I can have a good one. I'm absolutely proud of what I'm achieving."
About Jigsaw
Jigsaw is a social enterprise that provides an innovative pathway to open employment for people with disability. By embedding a comprehensive skill-based training program within our commercial document and data management business, Jigsaw enables people with disability to achieve their employment goals at their own pace. Jigsaw's holistic approach starts from the very basics of core work skills and supports trainees all the way through to transition to open employment with ongoing support and coaching once they have transitioned.

Jigsaw is located in Sydney, Melbourne, Brisbane and Adelaide, with Canberra and Perth locations coming soon.