With so many companies shifting to remote, it's become critical that workers have online access to records and data – both new and old – to do their jobs successfully. Yet, there are still countless organisations storing paper copies of records that must be kept for legal or commercial reasons.
A business moving towards digitisation will almost always need to invest in electronically scanning years – even decades – of these paper-based records. While a lot of businesses have already made this transition, there are just as many still wrestling to decide if the cost is justified.
As you'll see, if improving information access for employees isn't incentive enough, there are many other benefits that make digitisation a great opportunity for your business to embrace. Let's explore some of the many positives going paperless could achieve for your staff, customers – and bottom line.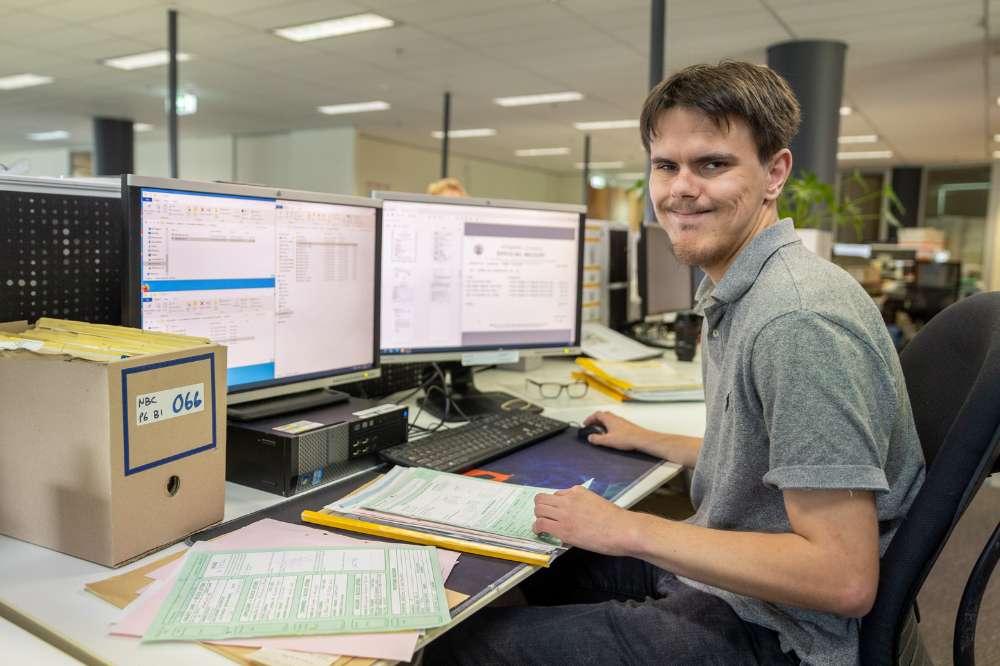 1. Increase your business efficiency
Getting your reams of paper records scanned and digitally stored can save your business significant time and space. You may currently have piles of paper documents filed in boxes and storage cabinets from your finance, human resources, customer services and other teams.
Once your paper records have been digitised, there is no need for staff to waste valuable work hours searching for, retrieving, and returning documents to storage. Using a search functionality on their desktop, laptop or even a smartphone, they can find the electronic version of the document in just seconds. This capability has never been more critical, as many now predict remote work is here to stay. Your staff need quick access to important documents, from wherever they are working. You can read here about the amazing efficiencies digitisation has helped Northern Beaches Council achieve.
2. Minimise risk and improve compliance
If your business has a large volume of paper documents – possibly stored in different locations – the prospect of electronically scanning and sorting each one and developing new digital business processes for your team can be paralysing. Have you considered though that NOT doing it is a big risk your business can't afford? Not only are your important paper documents vulnerable to disasters like fire or flood, but they can also be accidentally mislaid or accessed by unauthorised people.
Many businesses are held back from digitisation by fears documents with physical signatures must be retained to ensure compliance with government, industry and internal regulations and policies. There are many software tools on the market that companies can use in Australia to stay on top of digital signature regulations. It's often a misplaced fear, as digitising paper records can actually improve compliance: once data and records are online, software can be used to spot errors and oversights, to ensure everything is filled accurately.
Starting the journey to minimise risk and ensure compliance can be as simple as engaging a digitisation and information management business with the skills, speed, and attention-to-detail to carefully digitise and manage your valuable information assets for you.
Once scanned, a document can be backed up multiple times, giving you reassurance that archived data will always be available for future use. You can also then track each digital document to control who has access for added security with your confidential business documents.
3. Improve customer service
Anyone with a customer service job knows having all the right paper-based information on hand to help every customer quickly and efficiently is not always possible. So when your customer service team can access everything their clients may need at the touch of a keyboard because all of your paper records are scanned and digitised, customer and job satisfaction both rise! It's remarkable that something as relatively simple as having your past invoices, orders, and inventory available online could help you build closer relationships with existing customers and gain new ones!
4. Reduce costs
The cost of going paperless is a barrier that prevents many companies digitising their historical paper records. The good news is that reducing the amount of paper you store can cut costs significantly. When all your paper records have been scanned, you will suddenly need to invest much less in storage space, which can be costly. This is especially true for the many businesses that store their documents offsite, requiring costly and time consuming retrieval processes and staff time that could be used more profitably.
5. Shrink your environmental footprint
At a time when a growing number of consumers expect businesses to be more environmentally sustainable, another great reason to embrace digitisation is that you can be part of the solution, helping to slow climate change. After you've scanned all your documents and stopped using so much paper, you will be helping reduce our reliance on cutting down trees for paper and reducing CO2 emissions. You will also be cutting the overall energy needed to convert trees into paper products and transport them long distances.
6. Do social good while achieving a commercial outcome
As the pandemic is accelerating the movement of consumers towards online channels, it's not a matter of 'if' most companies will need to go digital with document management to stay profitable – but 'when'. How would it feel to know that your switch to a paperless workplace could benefit your bottom line AND have a positive impact on people, places, or communities in need? By choosing to partner with a social enterprise like Jigsaw Digital for your digitisation and information management services, you are also directly contributing to an innovative training pathway which prepares people with disability for mainstream employment. It's truly a win-win!
If you'd like to find out how you can make an effective commercial choice that can also create a positive social impact, please get in touch below!
About Jigsaw Digital
Jigsaw is a social enterprise offering a range of market-leading digitisation and information management services to organisations across Australia. We provide a range of competitive on-site and off-site end-to-end document services including large volume scanning, small volume scanning, day forward scanning, back scanning, book scanning, Optical Character Recognition (OCR), and document destruction. Additionally we offer remote admin support, workflow process administrative assistance, data entry, database clean up, document verification and document upload. Jigsaw's services are available Australia wide.