Hi, I'm Laura Holguin, and I am a Trainer (support worker) at Jigsaw in Adelaide, a social enterprise that trains and transitions people with disability into mainstream employment.
In my job, I support people with disability to develop important skills to assist them in the workplace and secure a mainstream job of their choice.
I love the fact that no two days are the same at Jigsaw, but here's a pretty good flavour of what a day might look like!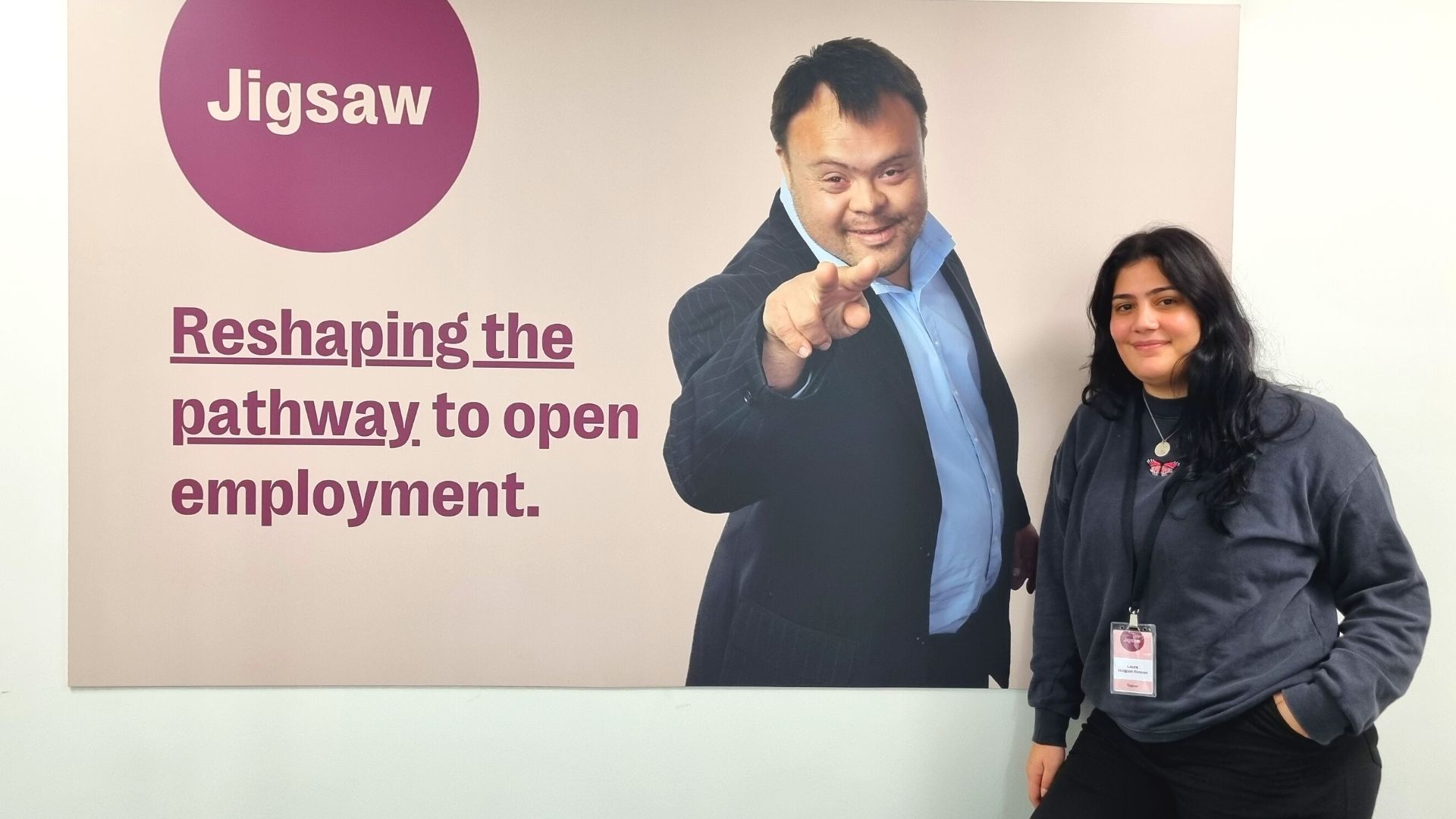 8:45am
I arrive at work and prepare for the upcoming day so that we can start promptly at 9am, when the trainees get here. It's important to model the transferable soft skills we teach trainees – in this case punctuality. Punctuality is not just about being present on time (although that is important); it's about being fully prepared to start the working day on time.
9:00am
The trainees arrive and we have our morning briefing. We look at the day's schedule so that everyone knows what they'll be working on, who they'll be working with and what time they have group sessions and 1:1 sessions. A well-facilitated morning briefing helps trainees develop the skill of organisation, as they can prepare what they need for each part of their day.
9:15am
Today I am running a group session with three trainees on reliability. We discuss what reliability means and how being reliable at work proves that you are responsible and can work independently. Jigsaw has a great curriculum site where you can access presentations and materials to lead group sessions, but Jigsaw also very much encourages creative thinking and individuality in your delivery!
10:30am
At this point in the day, trainees get stuck into work experience, delivering digitisation and other business services to corporate and government clients. They also take it in turns to have a 1:1 session with a trainer. Today I am working with the team who are preparing boxes of historical records from Epic Energy for digitisation. We remove any staples and ensure there are no creases or blemishes on the documents before passing them on to be scanned. This work requires attention to detail and focus – another key skill.
Other trainees will scan the documents and check the quality of the resulting files. We also have teams of trainees working on processing insurance claims for Allianz, a major business client.
12:30pm
Lunchtime! We tend to eat together in the lunchroom. We chat, play games and get to know each other more socially – trainees and trainers alike.
1:15pm
For the last working hour of the trainees' day, we go back to work experience and 1:1s. I am working with Siobhan. We revisit the main skill we focused on during the earlier group session, and Siobhan gives her ideas about what it means to put this skill into action. She gives some great examples of how she and her fellow trainees have demonstrated reliability during their work at Jigsaw. We also discuss some of her personal goals – she is very keen to develop her professional communication skills by working on the reception desk and welcoming visitors to Jigsaw.
2:45pm
This is a lovely time of the day. Everyone comes back together and shares a "win", a "challenge" and a "shout-out" – something they want to congratulate someone for. As well as bringing the day to a close, it promotes teamwork and good workplace relationships as trainees recognise their own and each other's work, and thank people for their contributions.
3:00pm
Once trainees have left, trainers and the training manager have a debrief session where we share any challenges or anything we have noticed or had disclosed to us by trainees, in order to help find solutions together.
3:15pm
I catch up on some admin – I record journals of everything the trainees I've been working with have achieved that day, and any challenges or behavioral issues they have encountered. I also plan for some of the group sessions and 1:1s I will be leading for the rest of the week.
3:45pm
Heading home, I feel tired, but fulfilled. It's been a full-on day and it takes a lot of energy to stay fully present and focused on someone's needs and how best to support them all day. But, I wouldn't change it for anything. It's the best feeling ever, when you really get to know the people you are supporting and can see them develop their skills and confidence – and, achieve more than they ever thought possible for themselves!
About Jigsaw
Jigsaw is a social enterprise that provides an innovative pathway to open employment for people with disability. By embedding a comprehensive skill-based training program within our commercial document and data management business, Jigsaw enables people with disability to achieve their employment goals at their own pace. Jigsaw's holistic approach starts from the very basics of core work skills and supports trainees all the way through to transition to open employment with ongoing support and coaching once they have transitioned. 
Jigsaw is located in Sydney, Melbourne, Brisbane and Adelaide, with Canberra and Perth locations coming soon.