Jigsaw Academy
Reshaping the pathwa

y to open employment.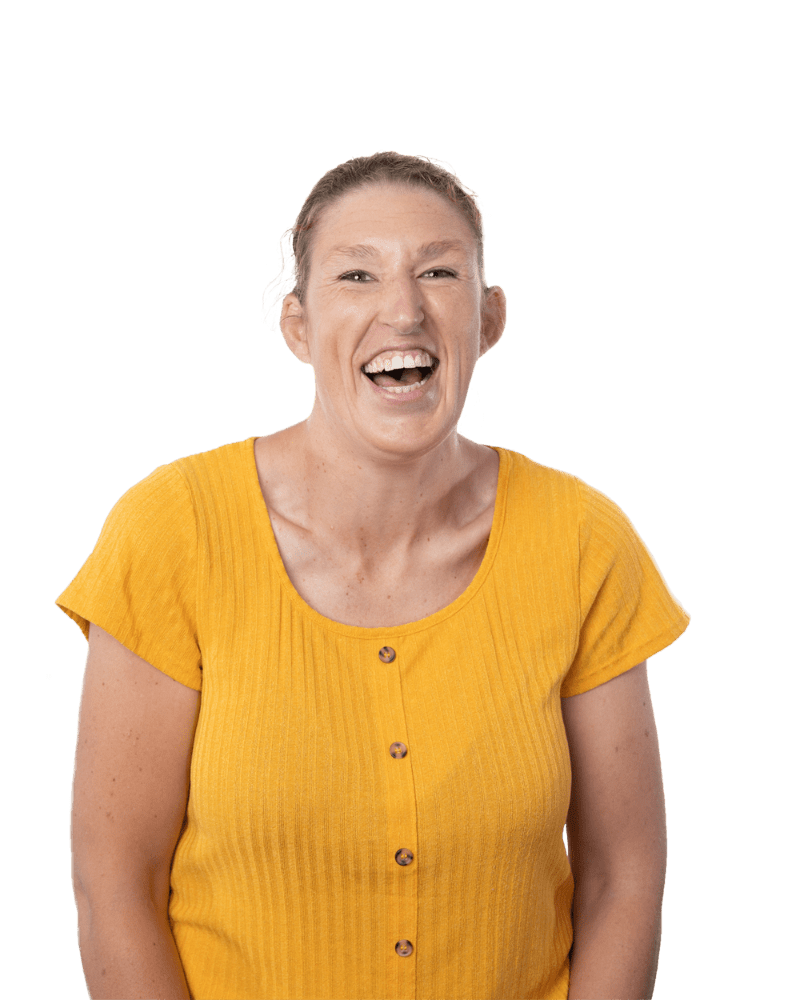 Achieve your employment goals with Jigsaw.
Jigsaw trains and transitions people with disability into open employment. Our innovative employment pathway offers you: 
A comprehensive workplace-based and

online training program

focused on transferable skills to get you work-ready.

Paid professional experience in our commercial digitisation and information management business, Jigsaw Digital.

CV, job application and interview coaching plus a profile on our online talent pool to promote you to employers.

Ongoing support for you and your new employer after you've secured a job.
At Jigsaw, we believe that people prepare best for work, through work. Our training program is tailored to your individual needs and abilities, and embedded within a commercial business. 
When you join Jigsaw, you progress through our proven pathway at your own pace.
Does Jigsaw sound like it's for you? Get in on the action today. 
Hear from Conor, one of our trainees.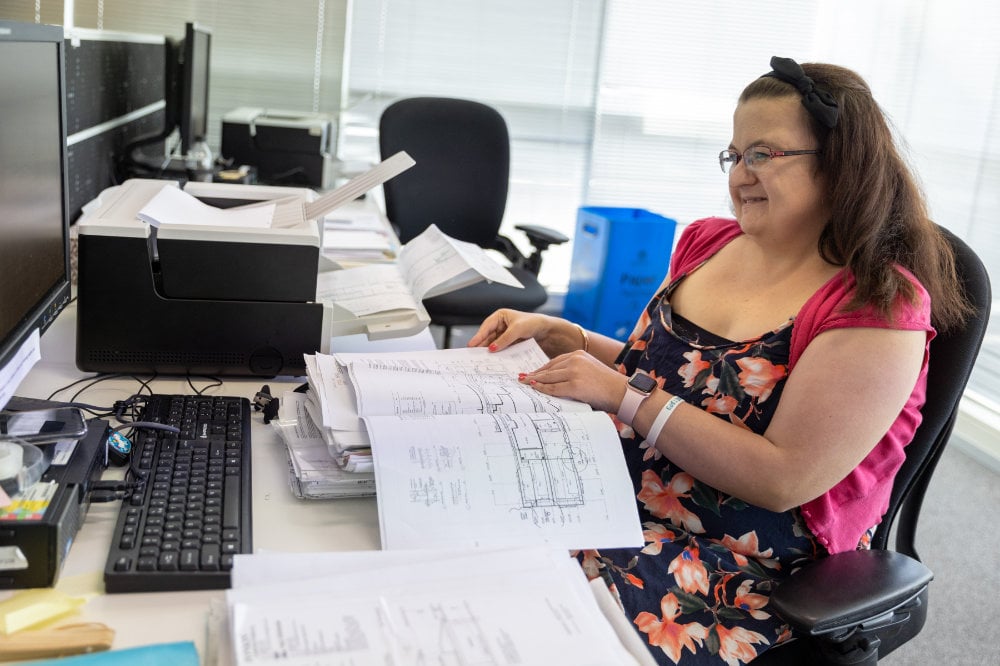 Are you a person with disability who has a goal to obtain award wage employment?
Are you NDIS funded with School Leavers Employment Supports (SLES), Finding and Keeping a Job, Core Supports or other relevant line items?
Are you located in Sydney, Brisbane, Melbourne, Adelaide, or Canberra?
To find out more about Jigsaw, or ask a question, click the link below.
Shape your career path with Jigsaw.
Jigsaw Academy: Trainee |

Workplace-based training in action
You'll start by training in 20 work-readiness skills through group sessions, one-to-one discussions and online learning. These 20 transferable skills, such as communication, accountability, focus, problem-solving, reliability and more. They are designed to get you ready for any workplace, so that you can pursue a career in the industry of your choice. 
From day one, we'll help you start planning the career you want and developing the skills to get there. Once you can consistently demonstrate all 20 skills, we'll offer you a paid 12 month contract within Jigsaw's digitisation and information management business, Jigsaw Digital.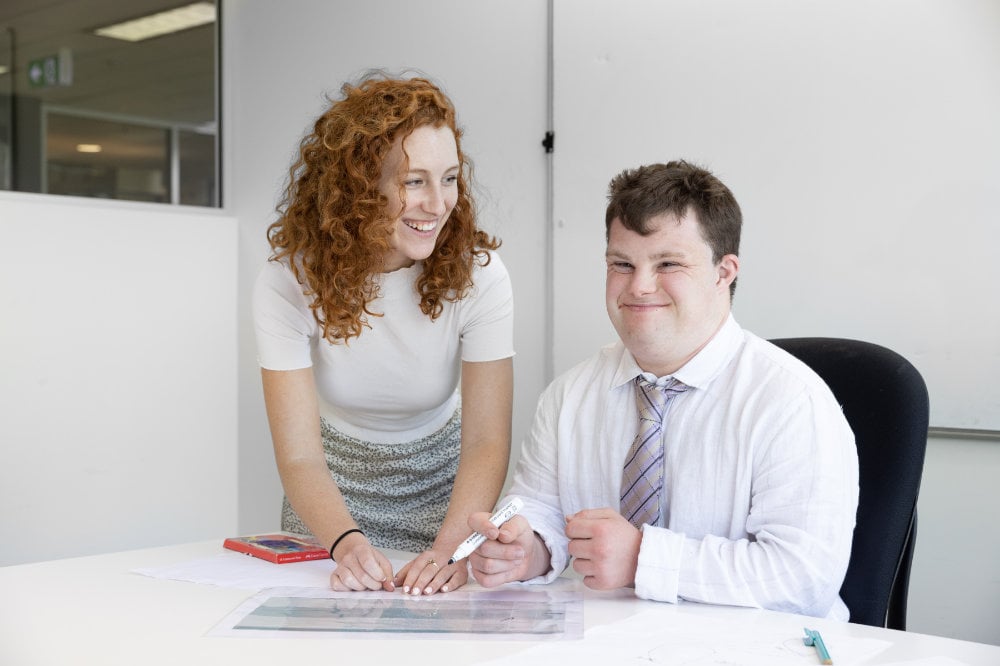 Jigsaw Academy

: Paid Trainee | Employment

 skills in action
Your paid role will help deliver on contracts for Jigsaw Digital's clients. You might be working in document preparation, scanning, quality control or office administration. However, your learning doesn't end now you're being paid. You'll continue your professional development in regular one-to-one meetings with your manager and develop the skills to sell yourself to employers.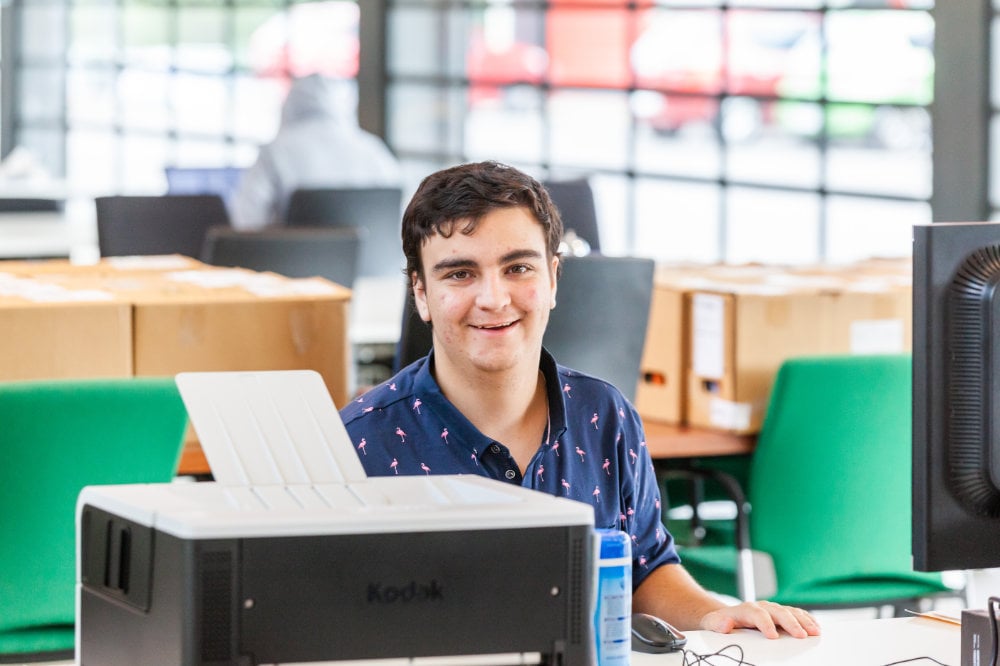 Beyond Academy |

Open employment in action
We have built great connections with employers who have trained in disability awareness, so you can be sure of a supportive environment when you arrive. When you secure a role, we'll check in with both you and your manager regularly to ensure you are settling in well, and to help you navigate any concerns.
You're now progressing in your career outside Jigsaw, but that doesn't mean our relationship has to end. We're really proud of all our Jigsaw graduates, and we like to stay in touch. We'll still be here for you, for as long as you need and want us to be.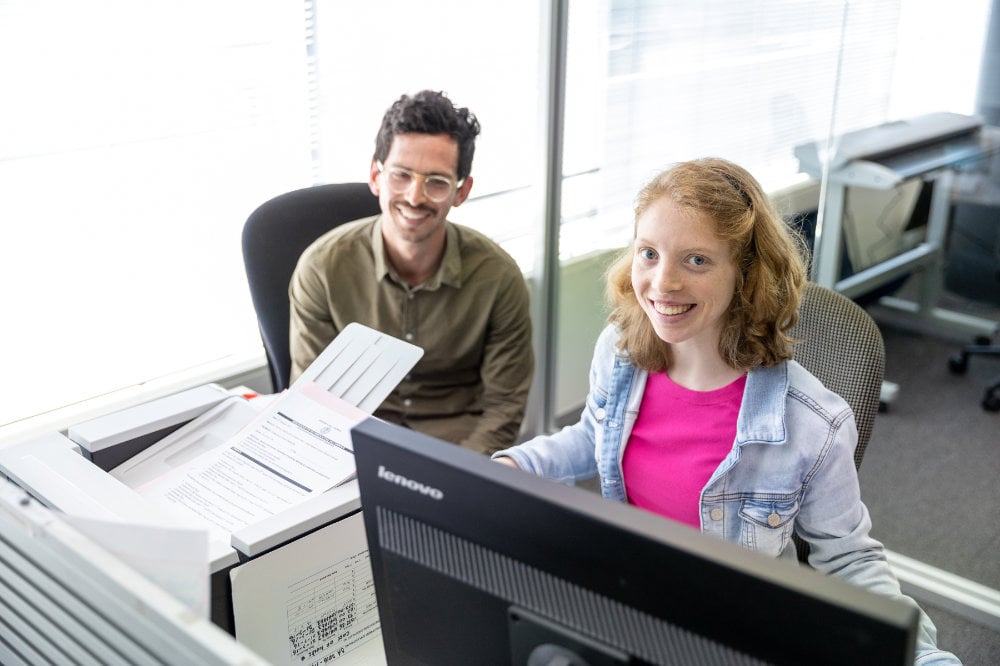 Check out our latest blogs and media …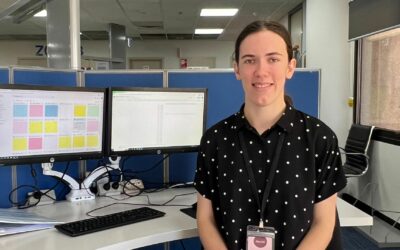 Jayne Brownlee is Jigsaw Adelaide's latest paid trainee. Aged 21, she is two months into...
read more
Does Jigsaw sound like it's for you? Get in on the action today. 
Sydney
Brisbane
Adelaide
Melbourne
Canberra
What types of disability does Jigsaw support?
Jigsaw is open to people with a whole range of disabilities with varying levels of support requirements. Our offices are set up to be accessible with a range of breakout spaces and various other accommodations. Our training programs are flexible and individually tailored with both 1:1 mentoring and group training with experienced support workers.
How are participants supported at Jigsaw?
We have a team of dedicated work trainers (they are experienced support workers too) that work with our Trainees throughout the day. We are very much focused on understanding each Trainee's employment goals and how best to support each individual to achieve those goals. We offer a range of group training as well as 1:1 mentoring support. Some of our Trainees are also supported with personal care and meal assistance.
What if a participant doesn't want a job in documentation data management?
No problem. We're not here to train documentation and data management job candidates. We simply use this business as a means to train people in the soft skills of work and get them job-ready so they can pursue their own individualised employment goals in whatever industry they choose. Everyone's journey will look different. We have had Trainees become web developers, support workers, admin staff, travel agents and junior planners, just to name a few.
How do participants travel to Jigsaw?
Unfortunately, we are unable to provide transport, however, we are happy to link you to suitable services within your local area. Some of our participants also carpool, which our Community Engagement Leads can help facilitate.
Is Jigsaw a Disability Employment Service (DES) or an Australian Disability Enterprise (ADE)?
No, Jigsaw is an innovative social enterprise that trains and transitions people into work. Whilst an ADE will provide supported employment and a DES will place candidates with disability into open employment,  Jigsaw offers a training pathway where trainees build job-readiness skills, gain paid professional experience and are supported to transition into open employment once they are job-ready.  Our holistic approach means you don't have to go through a different service provider for each stage of the training, experience and transition pathway, and it means you can progress at your own pace.
What does the Jigsaw training program consist of?
Jigsaw's program is based on the comprehensive Government framework of employment competencies. This framework is used by both corporate and Government organisations to assess employees applying for vacancies. Jigsaw has taken each of these competencies and developed 20 comprehensive training modules. 
These competencies are:
Punctuality, reliability, prioritisation, organisation, focus, professional presentation, following instructions, following procedures, following policies, flexibility, professional communication, teamwork, workplace relationships, feedback, stress management, ethical behaviour, problem solving & innovation, accuracy, accountability, continued professional development.
What does a day at Jigsaw look like?
A day at Jigsaw consists of learning, working and socialising. There are team meetings, work tasks such as file management, scanning, data entry and quality control, as well as group training and individual training. There are breaks scheduled throughout the day to eat, relax or catch up with work colleagues.
How many days a week do participants attend?
It depends entirely on the individual, but usually between 1 and 3 days per week.
How long does the Jigsaw training program last?
Training at Jigsaw is not time-bound, we take an individual approach to learning and the pace for everyone is slightly different. There are 20 modules that are required to be completed as part of the initial training. 
An average training journey might take from 12 to 18 months, however, it is important that people work towards their goals in their own time.
What is the NDIS?
The National Disability Insurance Scheme (NDIS) is a new way of providing support for Australians with a disability, as well as to their families and carers. The scheme takes a lifetime approach to ensuring that Australians with disability will have the necessary support they need to live an ordinary life.
Who is eligible to access the NDIS scheme?
The NDIS is accessible to those who:
Have a permanent and significant disability

Are under the age of 65 when you first enter the scheme

People who live in Australia and have Australian residency
If you are eligible, the NDIS will provide funding for reasonable and necessary supports that are required for you to live your life and reach your goals.
What are the most common NDIS funding categories that participants use to access support at Jigsaw?
Capacity Building Employment (Finding and Keeping a Job)

School Leaver Employment Supports (SLES)

Core Support

Assistance with Social and Community Participation
Is Jigsaw an NDIS Registered Service Provider?
Jigsaw is a social enterprise of Fighting Chance Australia: an NDIS Registered Provider (Provider Number 4050003203). This means that participant's NDIS funds can be NDIA managed, plan-managed, or self-managed, when attending Jigsaw.
What are the NDIS prices for support services at Jigsaw?
The National Disability Insurance Agency (NDIA) appoints price controls by setting the prices that registered providers can charge for those services. As a registered NDIS provider, Fighting Chance (Jigsaw is a social enterprise empowered by Fighting Chance) charges the NDIS prices for support services.
Fighting Chance is also compliant with the NDIA's eligibility terms to use the Temporary Transformation Payment (TTP) conditional loading and will use the TTP prices where applicable.
For more details, please refer to the NDIS price guide on the Fighting Chance website. 
What ratio are participants typically supported at?
The majority of NDIS participants who become Trainees are supported at a 1:3 ratio for 5 hours and receive 1 hour of 1:1 support, on each day they attend.
I don't have NDIS funding. Can I still attend Jigsaw?
Jigsaw offers a complimentary 10-week work experience opportunity for those that are in the process of applying for NDIS and interested in our pathway (in our hubs with capacity). Please contact your local hub to discuss the opportunity with the Community Engagement Lead. 
I have another question. Who can I ask?
If you have any other questions about Jigsaw or how your NDIS Plan funds can be used (including if your available funding is different to the categories mentioned above, or if your support funding is non-NDIS, or about the support ratio that will best suit your needs at Jigsaw), please contact us.
e: hello@fightingchance.org.au
p: 1300 166 734
We want to hear from you!
If you would like to learn more about Jigsaw Academy,  please get in touch by sending us an enquiry below, or call us on 1300 166 734. If you have a question, perhaps check our frequently asked questions first!